Obsession — "An idea or thought that continually preoccupies or intrudes on a person's mind."
-Oxford's English Dictionary
We're one month into 2021 and I have to say this is the fastest January has gone in quite a few years. Work was super busy the past two months so that would probably be why! I never followed up on my favorites for the fall of 2020 so I thought I would combine that with some of my favorite Christmas presents to give you my end of 2020 obsessions (all of the pictures link to the products!). Hopefully, you'll find some of your new favorites from this list!
1. evermore by Taylor Swift. I ended my last obsessions post with a Taylor Swift album and I'm starting this one with a Taylor Swift album. Of course, this album had to make my list because it, along with folklore, has become one of my favorite Taylor Swift albums ever. Like I said with folklore, folk Taylor is my favorite Taylor so I was sooo excited about her surprise album. I absolutely love "willow" (which was such a great single and music video choice), and "'tis the damn season," "cowboy like me," and "no body, no crime" definitely round out my top songs of this album. Well done Taylor, and I will be so happy if she does, in fact, release a third album of this trilogy as speculated.
2. Majesty (American Royals #2) by Katharine McGee. I had the first book of this series on my obsessions list when it came out and the second book didn't disappoint me. It starts out not long after the end of the first book and its big cliffhanger. All of the main characters are learning to deal with what happened and how it affects their futures (in both their personal and public lives). I love this series; it reminds me a lot of the tv show The Royals but with a more American twist. I highly recommend this book!
3. No Offense (Little Bridge Island #2) by Meg Cabot. Meg Cabot is one of my favorite authors ever and her latest book doesn't disappoint. It's set on Little Bridge Island, which is a small tourist location in Florida with some colorful residents. This book follows the police chief and new town librarian while they attempt to solve a mystery involving a baby left behind in the library and find love along the way. Cheesy? Yes. Some legal inaccuracies? Yes. But overall, I really enjoyed this book and the series as a whole. It's similar to Hallmark/Netflix romance movies, but that's what I love to read and watch so that's not a surprise I liked it! Check out my Goodreads linked in the sidebar to see what else I'm reading.
4. Slip Silk Pillowcase in Caramel. Where have I been for the past few years? Silk pillowcases are now on my must have list. My parents got me one for Christmas and I absolutely love it. It definitely has done wonders for my hair and skin since I started using it; I don't have to use dry shampoo as much anymore and my skin hasn't broken out as much as when I was using my old pillowcase. To kept it in good condition, I also purchased the Slip Silk Wash Detergent (when it was on sale) as silk needs a more gentle detergent to ensure it doesn't break down. I feel so fancy using a silk pillowcase and highly recommend trying one out!
5. Patagonia Silent Water Jacket in Grey. Do you ever decide you want one thing and then can't rest until you've purchased it? Well, that was me in December with a short puffer jacket. I have a long winter jacket from Athleta that is long enough to "cover my assets" as they like to say, but I decided I wanted one that was hip length that wasn't as long and didn't have a hood. So I found this Patagonia one at Dick's Sporting Goods and fell in love. I loved the bigger quilts and the more matte finish of the fabric, along with the length. I was quite hesitant about the price, but justified it since this is a jacket I will have for a long time and I had a triple point day for their rewards. Honestly, it was totally worth the price because it was everything I thought it would be from the pictures! If you want to see more of my clothing purchases in real time, check out my new Pinterest account and my "What's In My Closet" board as I update it right after I purchase new clothing pieces.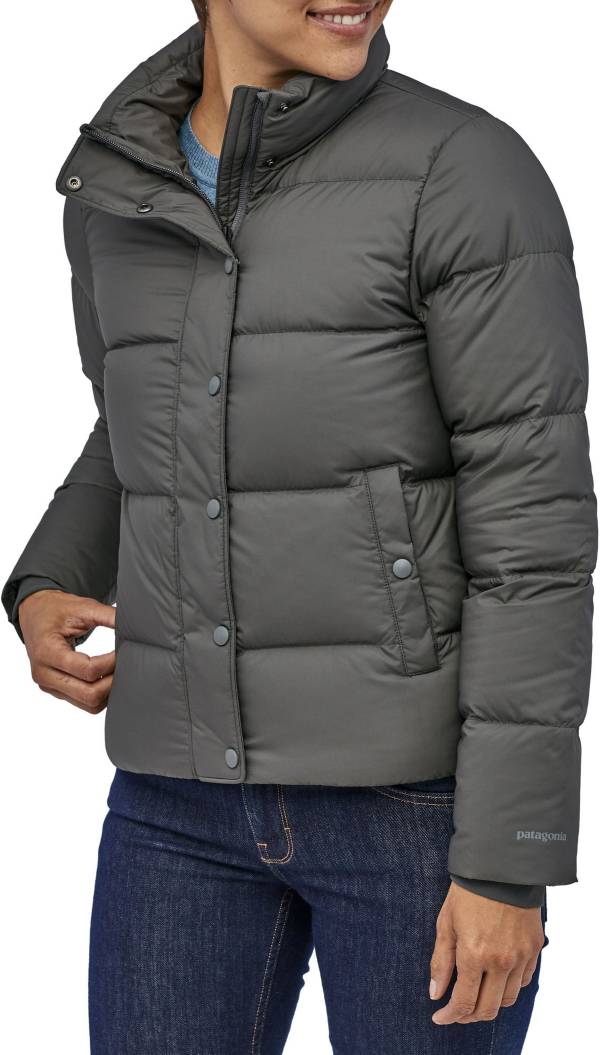 To go along with my Patagonia jacket, I also got some cute blush/mauve accessories for Christmas! I have so many gloves and hats from subscription boxes and from my youth, but I didn't have a matching set that included a hat, gloves, and a head wrap so when I saw all these were in the same colors I had to get them! I love having the blush accent with my new grey jacket and they go with my longer taupe winter jacket, too.